I'm currently in the "fake it til you make it" phase in my life. Some days I sit at my desk and pretend to know what I'm doing and look busy, but in all reality I'm Googling with one hand and texting my dad with the other one. I've discovered that when I wear heels to work, or anywhere for that matter, I feel so much more confident, and I walk with my chin held a little higher. Heels make me feel like I have my act together. So I made it one of my resolutions for this year to wear heels on more than just special occasions.
However, I realized that I don't own many pairs of heels. I have black suede wedges, a pair of black pumps, and a pair of brown pumps, plus a few pairs of heeled booties. My goal for this year is to add shoes to my "collection" that are practical, yet pretty, and under my budget of $125. Here are a few of my favorites:
Nude "Pact" Pump • This is such a nice, classic shoe. I wear a lot of navy, along with a lot of bright colors, and I think this is the perfect neutral. I have a pair of nude pumps from college, but they are way too high for me to wear to work… or basically anywhere. If you're a professional woman, you definitely want a pair of these in your shoe collection.
Oxblood Pointy Toe Pump • I can just imagine how confident I would feel wearing these into a meeting! I'm a sucker for anything oxblood, and I think the strap on the front of the shoe really "makes" it.
Rockstud Dupe! • It seems like everyone has jumped on board the Rockstud trend! While I can't afford a $995 pair of shoes, this dupe is close enough, especially when it's only $65! My other black heels are boring, so I love that these have some detail and are a bit more fun.
Leopard Print Ankle Strap Sandal • I have one pair of fun heels, and those are the bubblegum pink J.Crew pumps that I purchased to match my graduation dress. (I needed my parents to be able to pick me out of a sea of blue caps and gowns!) While a little loud, I think these could be worn to the office with a neutral, conservative outfit.
Blue Suede Sandal • I'm really drawn to the chunky heel on these sandals! I think the gray-ish blue color is pretty neutral, but the suede keeps them from being too boring.
Fringe & Tassel Sandal • I really would love to have a fun pair of heels! I go to a lot of events immediately after work, and I feel like this shoe plus a bold lip would be an easy way to quickly transition a look from day to night.
If you're hoping to add more high heels to your shoe collection this year, I've linked to some more of my favorites at the bottom of this post, as well! And speaking of linking – I'm so excited to be joining in with the Tutu Tuesday link up! Jordyn & Kristin are two of my favorite bloggers, so I love being able to link up with them, and I encourage you to link up with them, as well 🙂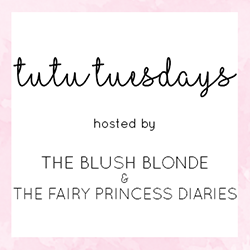 Happy Tuesday!