I am so thankful for a community of fashionable blogger friends. I know I can count on y'all for fashion inspiration, and now I'm in need of some fashion advice – I need y'all to help me choose my dress!
I'm going to a Gangster Gala put on by the Junior League, and I have no idea what to wear. I was dead set on this dress, but now I'm having second thoughts. I'd love to hear y'all's opinions, and there's even a little poll at the bottom you can participate in if you want to!
Option One – Milly "Take Flight" Dress ($45 Rental) // This was my original dress pick, and then I backed out at the last minute – I had typed in my credit card info and everything. I love the feathers, because when do you get the opportunity to wear feathers?!
Option Two – Free People "Loren" Dress ($70 Rental) // This reminds me of The Great Gatsby with a modern twist.
Option Three – BCBGMAXAZRIA "Chakra" Gown ($85 Rental) // I love this dress! It's in November, so the long sleeves and long gown are appropriate. Doesn't this seem like something you would see in a 1920's movie? I'm just not in love with the price tag for one night.
Option Four – BCBGMAXAZRIA "Turner" Romper ($35 Rental) // Instead of dressing like an elegant lady, why not dress like a lady gangster? I love the price on this and that the top looks like a little blazer.
Option Five – Nanette Lepore "On Off" Shift ($35 Rental) // I love the classic shift shape of this dress, and I think the beading is a fun touch. The model is wearing it with long tassel earrings, so for the affordable price of this rental, I totally wouldn't mind renting some jewelry as well.
Moment of Truth – What do y'all think?!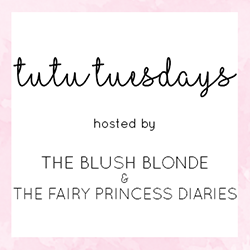 By the way, I'm so happy to be linking up with my friends The Blush Blonde & The Fairy Princess Diaries today for Tutu Tuesday! Whoop whoop!!
Happy Tuesday, my friends! Thanks for your help in determining which dress I should wear. I don't know what I would do without y'all!
Be sure to stop by tomorrow – I'm going to be sharing some details of my rebrand with y'all!
XX,
SS